The Ford S-Max continues to grow in popularity since it first appeared on our streets in 2006. It has received a facelift which emphasises its sleek sporty looks even more. And this is certainly one of the reasons people are choosing the S-Max over rivals when choosing a seven seater car. The sporty looks are not only skin deep on this model either as it offers a great drive and handling for a car of it's size whilst giving you the practicality of a sizeable MPV.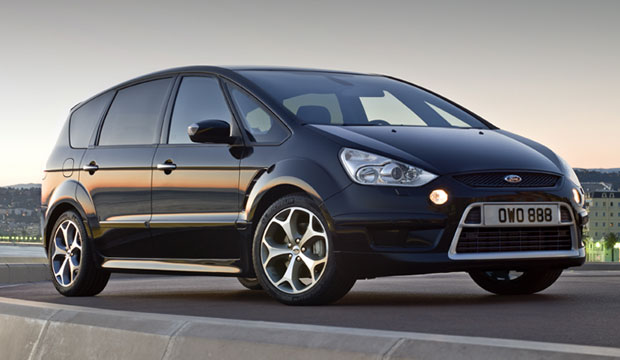 Price on the road from £22,805 to £32,575
Great to Drive
Flexible Seating
Stylish
cramped boot seats
Running Costs
Practicality 
For many buyers of seven seater cars this is the most important aspect of the decision making process. Get this wrong and it doesn't matter how good the fuel economy is or how good it is to drive it will not do the job.
Well the Ford S-Max comes through this test with more flying colours. This is a great sized MPV. There are three full size seats in the back which can be important if you need to use three car seats and the outer ones have ISO fix fittings. There is plenty of leg room as well and the rear seats have plenty of movement individually so you can either extend that legroom or if you need more boot space you can move them forward whilst still not cramping the rear passengers.
The boot is large and the rear seats can be folded flat to create a large completely flat van like space which is huge.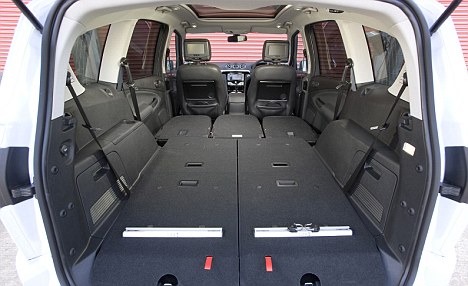 There are a couple of minor issues that owners have raised with this car.
The boot is that it doesn't have a lip which makes loading easy but also makes it common for objects to fall out when the boot is opened if the car is parked on a hill.




No spare wheel. Whilst it is common for cars these days to have a space saver the S-Max forgoes even that luxury. What you do get is some tyre filler and a pump for if you get a puncture and whilst this does the job of reparing the puncture sufficiently to get you home it does mean that the tyre cannot be repaired and with the price of tyres for this car that is something to think about.
Safety 
The SMax has a 5 star Euro NCAP rating so they must be doing some things right on the safety front. And in fact the S-Max has plenty of airbags to protect passengers in a crash. There are front and side airbags for the front seat passengers and window airbags for the front and rear rows. There are however no airbags if you have passengers travelling in the boot seats.
One slight issue that owners have raised is in regards to the front right pillar which can obscure your view in some situations like roundabouts.
Performance 
There are a good range of both Petrol and Diesel engines to choose from giving buyers the option of a reasonably economical car or something that is going to provide more driving pleasure. There are also automatic options across the range.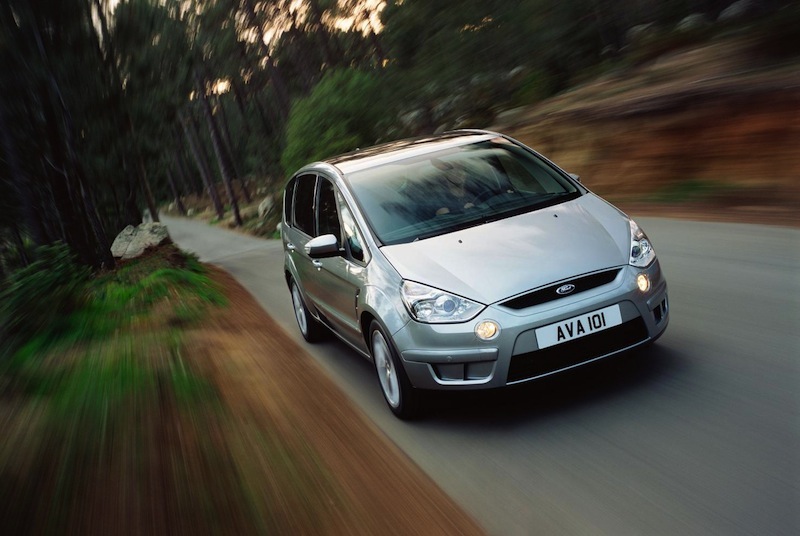 The Petrol Engines start with the 1.6 litre Ecoboost giving a combined MPG of 41.5 and a 0-60 time of 9.5 seconds with a top speed of 126 mph.
The other petrol engine is a 2.0 litre EcoBoost engine that is a pleasure to drive and delivers a 0-60 time of 7.6 seconds, top speed of 146 mph but sacrifices fuel economy, returning 34 mpg combined.
However most people buying a new S-Max will opt for one of the excellent diesel engines




These start with the frugal 1.6 TDCi with Start Stop technology which delivers 54 mpg, a 0-60 time of 12.6 seconds and a top speed of 112 mph.
The top of the range diesel engine is a 2.2 litre unit which takes you to 60 mph in under 9 seconds combined with a top speed of over 130 mph and a respectable 42 miles per gallon.
The most popular engine in the range is the 2.0 litre TDCi which gives good fuel economy with 47 combined mpg whilst providing good performance with a 0-60 time of 9.7 seconds and a top speed of 122 mph.
Behind the Wheel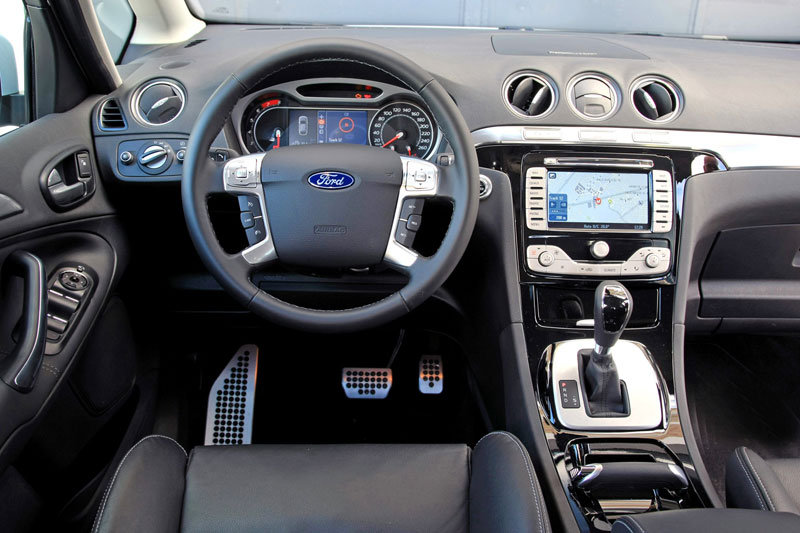 Besides the great look of the S-Max it is behind the wheel that you see the other reason why it has become so popular. Of all the seven seater MPVs on the market it is the most similar experience to driving a car. This is partly due to the fact that while you certainly sit higher than any car you do sit lower than almost all other MPVs. Coupled to this are some good engines with a 6 speed box which gives power when you need it and provides comfortable cruising on the motorway.
Comfort 
This is a very comfortable car capable of covering large distances effortlessly. Road noise is not really noticeable and the overall experience is very positive.
The seats are perfectly comfortable for long drives and plenty of space for front and rear seat passengers alike. The problems arise if you need to use the boot seats. Whilst they are fine for smaller children, they are only suitable for short distances if being occupied by adults. The seats themselves seem a little smaller than the other seats and the leg room is not generous. They are also located very low to the floor level which means that unless you are quite tall head room is not a problem but it does mean that you end up with your knees rather hunched up.
Reliability 
Reliability is generally good. There were a few problems with the earlier models, particularly around electrical faults but these have been addressed and recent reports suggest few problems.
Running Costs 
Running costs are higher than average.




Owners say this car eats tyres. The average for front tyres seems to be somewhere just over the 10,000 mile mark and over 15,000 for the rear tyres and these tyres are not cheap. Branded tyres such as Michelin and Firestone will set you back anywhere from £150 to £180 per tyre. You definitely want to shop around when replacing tyres and may well want to consider some of the cheaper online fitters.
Summary
The Ford S-Max is a real contender for anyone looking for a new seven Seater car. Inside the quality of materials shows through to create a cabin that feels a pleasure to journey in. It gives you a huge amount of space inside combined with sporty look and driving experience. It is a great way of transporting the kids and all their accompanying equipment around. I would definitely recommend test driving one very soon.
Also Consider…